Description
The Clik Pour-On gun is an essential piece of equipment when using Clik Pour-On and Clkizin Pour-On. The Clik Pour-On Gun, when used properly, guarantees the correct application of the pour-on.
How to use the Clik Pour-On Gun
Clik Pour-on and Clikzin Pour-On should be applied using the four stroke method as outlined below. It is recommended that both Clik and Clikzin is applied using the proper gun which features a fan spray nozzle.
The Four Stroke Method: The four stroke method ensures the pour-on is applied evenly by applying a quarter of the application at a time in four simple strokes.
1) 1/4 applied from between the shoulders to middle of back
2) 1/4 applied from middle of back to top of animals tail
3) 1/4 applied from one side of the animals tail down the crutch
4) 1/4 applied from other side of tail down the other crutch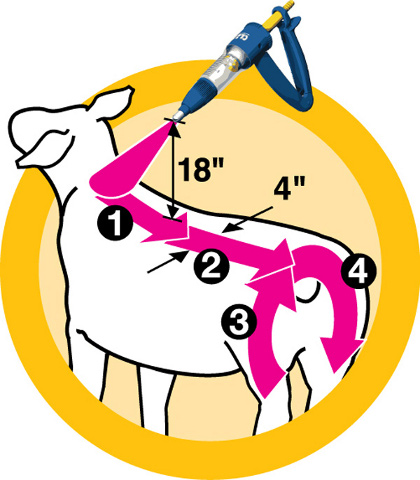 Before using this gun please ensure all tubing is attached firmly and that the included springs are securely fitted at over the tubing at each end!!